IFAPA - A Resource for Iowa's Foster, Adoptive & Kinship Families
The Iowa Foster and Adoptive Parents Association has been serving as a resource to foster, adoptive and kinship families in Iowa for nearly 45 years. IFAPA is a non-profit organization that empowers, supports and advocates for these families. Membership with IFAPA is free for Iowa's foster, adoptive and kinship families.
LEARN MORE ABOUT IFAPA
IFAPA Workshops for Foster & Adoptive Parents & Workers
SATURDAY, JUNE 3
The Brain: Normal Development vs.
Brain After Trauma
Ames, 9am-12:15pm (FREE CLASS)
The Magic of Healing the Brain and Fostering a Secure Attachment
Ames, 1:15pm-4:30pm (FREE CLASS)
Foster Care Meets Mental Health
Sioux City, 9am-4:30pm (FREE CLASS)
Mandatory Child Abuse
Reporter Training
Sioux City, 9am-12:15pm (FREE CLASS)
CPR & First Aid
Sioux City, 1:15pm-5:30pm (COST - $40)
THURSDAY, JUNE 8
FutureFest
Council Bluffs, 5pm-8pm (FREE CLASS)
SATURDAY, JUNE 10
Gender & Sexuality Sensitivity
Cedar Rapids, 9am-12:15pm (FREE CLASS)
The Effects of Disrupted Attachment
on a Child's Brain, Heart & Future
Cedar Rapids, 1:15pm-4:30pm (FREE CLASS)
Foster Care Meets Mental Health
Clinton, 9am-4:30pm (FREE CLASS)
Human Trafficking -
It's Here and Thriving in Iowa
Sioux City, 9am-12:15pm (FREE CLASS)
To register for one of the above classes,
call 800-277-8145 or REGISTER HERE.
Click here to register and pay for CPR
To view classes approved for Social Work CEUs, click here.

Current News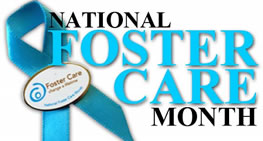 May is National Foster Care Month. IFAPA would like offer up a big THANK YOU to foster parents.
THANK YOU for your passion and commitment to provide a safe loving home to children.
THANK YOU for sharing your home and family with children that come into care.
THANK YOU for learning all you can about these children, so that you can make them feel as comfortable as possible during this scary and difficult time.
THANK YOU for allowing numerous people to enter your home on a regular basis.
THANK YOU for being a positive role model in our community.
THANK YOU for the time and extra expenses you have put into helping these children have a happier, more successful future.
THANK YOU for enduring and persevering through the obstacles you encounter every day as a foster parent.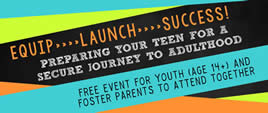 EQUIP..LAUNCH..SUCCESS!
Preparing Your Teen for a
Secure Journey to Adulthood

This event is free for youth (age 14+) and foster parents. Participants will learn about HUMAN TRAFFICKING and how to HELP TEENS SUCCESSFULLY TRANSITION TO ADULTHOOD. Every youth who attends will receive a giveaway.
EVENT DETAILS:
COUNCIL BLUFFS Thurs., June 8
BLOOMFIELD Sat., June 24
TO LEARN MORE ABOUT THE
SESSIONS & THE EVENT DETAILS PLEASE VISIT OUR TRAINING PAGE.

TO REGISTER ONLINE OR CALL
800.277.8145 - BE SURE TO
RSVP FOR YOUR TEEN TOO.