IFAPA - A Resource for Iowa's Foster, Adoptive & Kinship Families
The Iowa Foster and Adoptive Parents Association has been serving as a resource to foster, adoptive and kinship families in Iowa for nearly 45 years. IFAPA is a non-profit organization that empowers, supports and advocates for these families. Membership with IFAPA is free for Iowa's foster, adoptive and kinship families.
LEARN MORE ABOUT IFAPA
IFAPA Workshops for Foster & Adoptive Parents & Workers

Current News
Adoption Respite Changes:
Remember that the fiscal year ends June 30 and your Adoption Respite Request Form must be submitted to IFAPA (postmarked by July 7) in order to have your adoption respite provider paid.
After July 1, the new DHS contractors will be taking over the Adoption Respite Program. We hope to have their Adoption Respite forms available soon.
JOIN IFAPA ON AUGUST 19 2017 FOR ADVENTURELAND FUN DAY
THANK YOU for your passion and commitment to provide a safe loving home to children.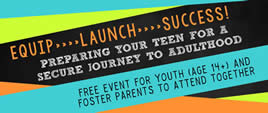 EQUIP..LAUNCH..SUCCESS!
Preparing Your Teen for a
Secure Journey to Adulthood

This event is free for youth (age 14+) and foster parents. Participants will learn about HUMAN TRAFFICKING and how to HELP TEENS SUCCESSFULLY TRANSITION TO ADULTHOOD. Every youth who attends will receive a giveaway.
EVENT DETAILS:
BLOOMFIELD Sat., June 24
TO LEARN MORE ABOUT THE
SESSIONS & THE EVENT DETAILS PLEASE VISIT OUR TRAINING PAGE.

TO REGISTER ONLINE OR CALL
800.277.8145 - BE SURE TO
RSVP FOR YOUR TEEN TOO.