IFAPA - A Resource for Iowa's Foster, Adoptive & Kinship Families
For over 40 years, the Iowa Foster and Adoptive Parents Association has been serving as a resource to foster, adoptive and kinship families in Iowa. IFAPA is a non-profit organization that empowers, supports and advocates for these families. Membership with IFAPA is free for Iowa's foster, adoptive and kinship families.
LEARN MORE ABOUT IFAPA
IFAPA Workshops for Foster & Adoptive Parents & Workers
SATURDAY, JAN. 10
Law & Order: Foster Care
Ankeny, 9am-12:15pm (FREE CLASS)
Why Can't They Stop:
Addiction & New Drug Trends
Ankeny, 1:30pm-4:45pm (FREE CLASS)
Putting the Myths & Misunderstandings
on Sleep Disorders to Bed*
Cedar Falls, 9am-4:30pm (FREE CLASS)
From Fear to Love:
Beyond Consequences II*
Cedar Rapids, 9am-4:30pm (FREE CLASS)
Don't Worry About It! Anxiety, Panic & Obsessive Compulsive Disorder*
Davenport, 9am-4:30pm (FREE CLASS)
SATURDAY, JAN. 17
Mandatory Child Abuse
Reporter Training
Ankeny, 9am-12:15pm (FREE CLASS)
CPR & First Aid
Ankeny, 1:15pm-5:30pm (COST - $40)
Stick to It: Maintaining a Challenging Placement
Council Bluffs, 9am-4:30pm (FREE CLASS)
When Old Parenting Strategies Don't Work! Help Me Please!
Sioux City, 9am-12:15pm (FREE CLASS)
Bullying - What's a Parent to Do?
Sioux City, 1:30pm-4:45pm (FREE CLASS)
SATURDAY, JAN. 24
I Don't Get It! - Learning Disorders*
Cedar Rapids, 9am-4:30pm (FREE CLASS)
What Are You Trying to Tell Me? Responding to Troubling Behaviors*
Davenport, 9am-4:30pm (FREE CLASS)
Domestic Minor Sex Trafficking and Its Impacts on Children in Foster Care*
Waterloo, 9am-4:30pm (FREE CLASS)
To register for one of the above classes,
call 800-277-8145 ext. 1 or register here.
* Classes also approved for SW CEUs

Current News

IFAPA Announces Our New Executive Director
Kaci O'Day-Goldstein has joined IFAPA as the Executive Director. Kaci is a familiar face to many foster, adoptive, kinship, DHS and other professionals in the child welfare system where she has worked for over 15 years. Kaci's background includes work in; special education setting, hospital environment, community based employment, adult mental health field, Iowa's child welfare system and end of life services. She has worked with Iowa KidsNet in the Des Moines Service Area since the start of the project, where she has trained many families as a PS-MAPP leader. Kaci grew up in Southeast Iowa with strong ties to community and family. In 2000, she moved to the Des Moines area with her husband Jesse. They have been foster and adoptive parents since 2003 and care for children from birth through adulthood, with an emphasis on teen parents. They have four children; Jessica, Connor, Kayli and Camden and one grandson, Adrian. Kaci can be reached at the IFAPA office, 515-289-4226 or kodaygoldstein@ifapa.org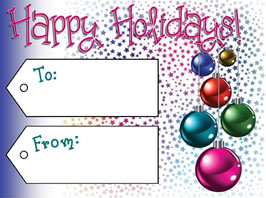 Struggling to Find the Perfect Holiday Gift?
This holiday season make a donation honoring your friends and loved ones and help a child in need.  IFAPA is seeking donations for our Friends of Children in Foster Care Program to help children in foster care participate in extra-curricular activities just like any other child. If you would like to make a donation on someone's behalf you can mail your donation to IFAPA (see address below) or MAKE A DONATION ONLINE.  
100% of the proceeds go directly to Iowa children in foster care.  
PRINT OUR DONATION GREETING CARD TO GIVE TO LOVED ONES
Call for Presenters
BREAK-OUT SESSION PROPOSALS
The 2nd annual IFAPA Fall Conference will be held October 16-17, 2015 at the Five Sullivan Brothers Convention Center in Waterloo. Break-out sessions will be two hours in length. Presenters are welcome to submit proposals for up to three sessions each day. Break-out session proposals are due Jan. 9, 2015 LEARN MORE