Support Group Locator
Below is a list of all foster, adoptive and kinship parent support groups listed by DHS Service Area. Please be advised that many of the support groups listed below do not meet in the summer months. To view a list of upcoming support group trainings, click here.
If you organize a foster/adoptive/kinship support group in Iowa and are not listed below but would like to become affiliated with IFAPA, click here.
Support Group Locations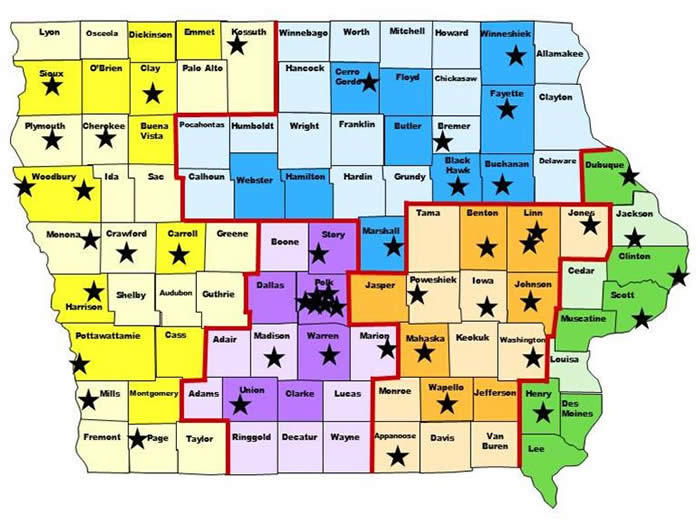 Support Group Meeting Details
Western Service Area Support Groups
West Central Iowa Support Group for Foster/Adoptive Parents
This group is open to kinship parents, foster parents and any type of adoptive parent.

This support group is open to parents from Carroll, Greene, Crawford, Audubon, Guthrie, Sac counties. This group is also open to anyone that needs foster parent training hours.

MEETING LOCATION:

Family Resource Center
506 W 7th St, Carroll
MEETING DAY & TIME:
Meets monthly - 1st Tuesday from 7:00-9:00pm
Group meets every month, except July & December
CONTACT PERSONS:
Catherine Vanderheiden
(712-792-2025 or 712-210-6011)
Denise Weitl (712-669-3566)
NEWSLETTER/WEBSITE:
n/a
Council Bluffs Support Group
This group is open to kinship parents, foster parents and any type of adoptive parent.

This support group is open to parents from any county,
though the targeted area is Pottawattamie county.

MEETING LOCATION:

Church of Christ
1525 McPherson Ave, Council Bluffs
MEETING DAY & TIME:
Meets quarterly - last Thursday from 6:30pm-8:30pm
Group meets on Oct. 24, 2012, Jan. 10, 2013, Mar. 28, 2013 &
May 30, 2013)
CONTACT PERSONS:
Sandra Dollen - IFAPA Peer Liaison
(712-526-2518 or sdollenifapa@gmail.com)
Hector Villarreal (712-352-2518 or familiavillarreal@q.com)
NEWSLETTER/WEBSITE:
Jan 2013, Feb 2013, Mar 2013, Apr 2013, May 2013
Denison Area Foster & Adoptive Parent Support Group
This group is open to kinship parents, foster parents and any type of adoptive parent.

This support group is open to parents from
Audubon, Crawford, Sac, Ida, Shelby.

MEETING LOCATION:

Denison Law Enforcement Center (Meeting Room)
1119 1st Ave N, Denison
MEETING DAY & TIME:
Meets monthly - 4th Monday from 6:30-8:30pm
Group meets all months except July & December
CONTACT PERSONS:
Dawn Luetje - LSI / Iowa KidsNet
(712-263-9341 or dawn.luetje@lsiowa.org)
Kellie Dykhuis - Childrens Square USA / Iowa KidsNet
(712-314-4996 or kdykhuis@childrenssquare.org)
NEWSLETTER/WEBSITE:
n/a
Southwest Iowa Support Group
This group is open to kinship parents, foster parents and any type of adoptive parent.

This support group is open to parents from
Montgomery, Page, Fremont, Taylor or any county.

MEETING LOCATION:

Essex Community Building
410 Iowa Ave , Essex
MEETING DAY & TIME:
Meets quarterly - 3rd Thursday from 6:30pm-8:30pm
Group meets the following months (Sept, Jan, April & June)
CONTACT PERSONS:
Janet Dukes (712-379-3807 or mjdukes@mchsi.com)
Jill Stone - Children's Square / Iowa KidsNet
(712-326-4849 or jstone@childrenssquare.org)
NEWSLETTER/WEBSITE:
n/a
Mills County Support Group
This group is open to kinship parents, foster parents and any type of adoptive parent.

This support group is open to parents from any county, including Mills, Pottawattamie, Harrison, Fremont, Page and Montgomery (anyone is welcome).

MEETING LOCATION:

Loess Hills Funeral & Cremation Center (Courtesy Room)
112 N. Vine, Glenwood
MEETING DAY & TIME:
Meets quarterly - usually a Thursday evening in Feb., Apr., Sept. & Nov. - contact Dee for dates & times
CONTACT PERSONS:
Dee McIntyre
(712-527-9361 or mcin212@aol.com)
Jill Stone - Children's Square / Iowa KidsNet
(712-326-4849 or jstone@childrenssquare.org)
NEWSLETTER/WEBSITE:
n/a
Hull Support Group
This group is open to kinship parents, foster parents and any type of adoptive parent.

This support group is open to parents from
Sioux, Lyon, O'Brien and Osceola counties.

MEETING LOCATION:

The home of Dan & Julie Bosma
3177 Harrison Ave, Hull
MEETING DAY & TIME:
Meets monthly - 2nd Tuesday from 7:00-9:00pm
Group meets September through April
CONTACT PERSONS:
Dan Bosma (712-439-2617 or jbosma@hickorytech.net)
Becky Groeneweg - Lutheran Services in Iowa / Iowa KidsNet
(712-263-9341 or becky.groeneweg@lsiowa.org)

NEWSLETTER/WEBSITE:
n/a
LeMars Support Group
This group is open to kinship parents, foster parents and any type of adoptive parent.

This support group is open to parents from any county.

MEETING LOCATION:

Grace Lutheran Church
1430 7th Ave SE, LeMars
MEETING DAY & TIME:
Meets monthly - 4th Thursday from 7:00-9:00pm
Group meets September through April, except October and December
CONTACT PERSONS:
Rachelle Polkinghorn - LSI / Iowa KidsNet
(712-251-8882 or rachelle.polkinghorn@lsiowa.org)
Mallory Berkenpas - LSI / Iowa KidsNet
(712-540-8182 or mallory.berkenpas@lsiowa.org)
NEWSLETTER/WEBSITE:
n/a
Monona County Support Group
This group is open to kinship parents, foster parents and any type of adoptive parent.

This support group is open to parents from
Monona and surrounding counties.

MEETING LOCATION:

St. John's Methodist Church
212 S. 7th Street , Mapleton
MEETING DAY & TIME:
Meets monthly - 2nd Monday from 6:30pm-8:30pm
Group meets September through May, except December
CONTACT PERSONS:
Nikkay Schaffer (712-881-3831 or piper@longlines.com)
Jill Stone - Children's Square / Iowa KidsNet
(712-326-4849 or jstone@childrenssquare.org)
NEWSLETTER/WEBSITE:
n/a
Oakdale Support Group
This group is open to kinship parents, foster parents and any type of adoptive parent.

This support group is open to parents from any county.

MEETING LOCATION:

Oakdale Evangelical Free Church
1207 450th Street , Meriden
MEETING DAY & TIME:
Meets monthly - 4th Tuesday from 7:00-9:30pm
Group meets October through April, but not December
CONTACT PERSONS:
Danette Morgan (712-437-2575 or morganfamily@netins.net)
Clint Hogrefe (712-443-8385 or chogrefe@oakdalechurch.com)
NEWSLETTER/WEBSITE:
n/a
Moville Support Group
This group is open to kinship parents, foster parents and any type of adoptive parent.

This support group is open to parents from any county.

MEETING LOCATION:

Moville City Hall
21 Main Street , Moville
MEETING DAY & TIME:
Meets monthly - 2nd Thursday from 7:00-9:00pm
Group meets September through April, except December
CONTACT PERSONS:
Rachelle Polkinghorn - LSI / Iowa KidsNet
(712-251-8882 or rachelle.polkinghorn@lsiowa.org)
Mallory Berkenpas - LSI / Iowa KidsNet
(712-540-8182 or mallory.berkenpas@lsiowa.org)
NEWSLETTER/WEBSITE:
n/a
Sioux City Support Group
This group is open to kinship parents, foster parents and any type of adoptive parent.

This support group is open to parents from any county.

MEETING LOCATION:

St. Lukes Lutheran Church
2039 S. Saint Aubin St., Sioux City
MEETING DAY & TIME:
Meets twice a month - 1st & 3rd Thursdays from 7:00-9:00pm
Group meets September through April, except December
CONTACT PERSONS:
Rachelle Polkinghorn - LSI / Iowa KidsNet
(712-251-8882 or rachelle.polkinghorn@lsiowa.org)
Mallory Berkenpas - LSI / Iowa KidsNet
(712-540-8182 or mallory.berkenpas@lsiowa.org)
NEWSLETTER/WEBSITE:
n/a
Clay County Foster Parent Support Group
This group is open to kinship parents, foster parents and any type of adoptive parent.

This support group is open to parents from Clay, Buena Vista, Emmet, Palo Alto, Kossuth, O'Brien, Osceola, Dickinson, Sioux or other surrounding counties.

MEETING LOCATION:

Hope Reformed Church
919 Grand Ave, Spencer
MEETING DAY & TIME:
Meets monthly - 3rd or 4th Thursday from 6:30-8:30pm
Group meets October through April, except January
contact staff below for exact dates
CONTACT PERSONS:
Becky Groeneweg - LSI / Iowa KidsNet
(712-320-2052 or becky.groeneweg@lsiowa.org)
Chelle Bisenius - LSI / Iowa KidsNet
(712-260-7433 or chelle.bisenius@lsiowa.org)
NEWSLETTER/WEBSITE:
n/a
Kossuth County Foster Parent Support Group
This group is open to kinship parents, foster parents and any type of adoptive parent.

This support group is open to parents from
Kossuth, Emmet, Palo Alto, Winnebago, Hancock and Humboldt counties.

MEETING LOCATION:

Open Bible Church
203 3rd Street West , Swea City
MEETING DAY & TIME:
Meets monthly - 2nd Tuesday from 6:00-8:00pm
Group meets September through May
CONTACT PERSONS:
Victor Carranza (515-320-3335 or caranza1@windstream.net)
Sandra Carranza (515-272-4602)
NEWSLETTER/WEBSITE:
n/a
Harrison County Support Group
This group is open to kinship parents, foster parents and any type of adoptive parent.

This support group is open to parents from Harrison, Shelby and Monona counties.

MEETING LOCATION:

Followers of Christ Church
77 5th Street, Woodbine
MEETING DAY & TIME:
Meets monthly - 3rd Thursday from 6:30-8:30pm
Group meets September through May, no Nov/Dec meeting)
CONTACT PERSON:
Julie Coolman (402-681-4685 or jbiniowa@gmail.com)
Deb Swift (712-647-3098 or dsunique@windstream.net)
NEWSLETTER/WEBSITE:
n/a
Northern Service Area Support Groups
Decorah Area Support Group
This group is open to kinship parents, foster parents and any type of adoptive parent.

This support group is open to parents from any county, though the targeted area is
Howard, Allamakee, Winneshiek and Clayton counties.

MEETING LOCATION:

First Lutheran Church
604 W. Broadway St., Decorah
MEETING DAY & TIME:
Meets monthly - 3rd Tuesday from 7pm-9pm
Group meets September through May
CONTACT PERSONS:
Nancy Staton - IFAPA Peer Liaison
(319-934-3481 or nstaton_ifapa@netins.net)
NEWSLETTER/WEBSITE:
Nov 2012, Apr 2013
Independence Area Support Group
This group is open to kinship parents, foster parents and any type of adoptive parent.

This support group is open to parents from any county, though the targeted area is Buchanan, Delaware and Fayette counties.

MEETING LOCATION:

First United Methodist Church
313 2nd St SE, Independence
MEETING DAY & TIME:
Meets monthly - 2nd Thursday from 6:30pm-8:30pm
Group meets September through May
Childcare is offered
CONTACT PERSONS:
Sandy Johnson
(319-934-3647 or ksjhome@netins.net)
Nancy Staton - IFAPA Peer Liaison
(319-934-3481 or nstaton_ifapa@netins.net)
NEWSLETTER/WEBSITE:
Oct 2012, Nov 2012, Dec 2012, Jan 2013, Feb 2013, Mar 2013, Apr 2013
Marshall County Support Group
This group is open to foster parents and DHS adoptive parents.

This support group is open to parents from any county.

MEETING LOCATION:

New Hope Christian Church
3901 S. Center St., Marshalltown
MEETING DAY & TIME:
Meets monthly - 2nd Tuesday from 6:00-8:00pm
Group meets September through April
Childcare is offered
CONTACT PERSONS:
Mindy Oswalt - Youth & Shelter Services / Iowa KidsNet
(515-290-5489 or moswalt@yss.ames.ia.us)
NEWSLETTER/WEBSITE:
Sept 2012, Oct 2012, Nov 2012, Dec 2012, Jan 2013, Feb 2013, Mar 2013, Apr 2013, May 2013
North Central Iowa Foster & Adoptive Parents Association (NCIFAPA)
This group is open to kinship parents, foster parents and any type of adoptive parent.

This support group is open to parents from any county.

MEETING LOCATION:

DHS - Liberty Room (east door)
22 N Georgia, Mason City

MEETING DAY & TIME:
Meets every other month - 3rd Tuesday from 6:30-9pm (training 7-9pm)
Group meets Jan, Mar, May, July, Sept & Nov.

CONTACT PERSONS:
Christie McGuire - IFAPA Peer Liaison
( 800-720-9850 ac 62 or cmcguireifapa@gmail.com)
Mike McGuire (641-425-5063 or mcgacres@q.com)

NEWSLETTER/WEBSITE:
July 2012, Aug 2012, Sept 2012, Oct 2012, Nov 2012, Jan 2013
Feb 2013, Mar 2013, Apr 2013, May 2013
Black Hawk Foster / Adoptive Parent Support Group
This group is open to kinship parents, foster parents and DHS adoptive parents.

This support group is open to parents from
Black Hawk, Grundy, Tama and any others that wish to attend.

MEETING LOCATION:

Grace Lutheran Church
1024 W. 8th Street, Waterloo
MEETING DAY & TIME:
Meets monthly - 2nd Tuesday from 6:30-9:00pm
Group meets September through May
Child care is offered
CONTACT PERSONS:
Dianna Seedorff - IFAPA Peer Liaison
(319-235-2534 or seedorff_ifapa@hotmail.com)
Judith Jeffries (319-610-1861 or judith.jeffries@aol.com)
NEWSLETTER/WEBSITE:
www.blackhawkfosteradoptiveparents.com
Sept 2012, Oct 2012, Nov 2012, Dec 2012, Jan 2013, Feb 2013, Mar 2013, Apr 2013, May 2013
Allison Area Foster Parents Support Group
This group is open to kinship parents, foster parents and any type of adoptive parent.

This support group is open to parents from any county,
though the targeted areas are Bremer, Butler, Franklin and Grundy counties.

MEETING LOCATION:

Vineyard Community Church
319 West Bremer Ave, Waverly
MEETING DAY & TIME:
Meets every other month - 3rd Tuesday from 7-9pm
Regular meetings - Sept, Nov, Jan, March & May
Childcare is offered & Teen support group also meets at this time
CONTACT PERSONS:
Nancy Magnall - IFAPA Resource Information Specialist
(319-352-3600 or magnall_ifapa@msn.com)
Pamela Jones (319-239-5905 or pamelajones19@q.com)
NEWSLETTER/WEBSITE:
Sept 2012, Nov 2012, Jan 2013, Mar 2013, May 2013
www.freewebs.com/allisonareafosterparents

Talk & Share Support Group
This group is open to kinship parents, foster parents and DHS adoptive parents.

This support group is open to parents from any county, group meets in Fayette county.

MEETING LOCATION:

Victory Christian Church (park in the alley)
112 S Pine St (park behind church), West Union
MEETING DAY & TIME:
Meets monthly - 4th Tuesday from 7-9pm
Groups meets August through May, except December
CONTACT PERSONS:
Amy Moore (563-427-5393 / 563-379-1056 or tamoore@netins.net)
Tami Guyer (563-380-5212 or tlguyer@netins.net)
NEWSLETTER/WEBSITE:
n/a
Eastern Service Area Support Groups
Clinton Area Foster & Adoptive Parents
This group is open to kinship parents, foster parents and DHS adopive parents.

This support group is open to parents from
Clinton county though others area always welcome.

MEETING LOCATION:

Clinton (location varies)
MEETING DAY & TIME:
Meets every other month - typically on a Sunday in the afternoon. Group meets October, December, February, April & June. For specific times and location, contact group leaders below.
CONTACT PERSON:
Kathy Rockwell - LSI / Iowa KidsNet
(563-243-8200 or kathleen.rockwell@lsiowa.org)
Pat Kehrberg
(563-243-3887 or pkehrberg@mchsi.com)
NEWSLETTER/WEBSITE:
www.bffoftheqc.com
Building Forever Families of the Quad Cities, Inc.
This group is open to kinship parents, foster parents and any type of adoptive parent.

This support group is open to parents from any county, though the targeted counties are
Scott, Cedar, Clinton and Muscatine.

MEETING LOCATION:

Cobblestone Building (offices of Building Forever Families)
1212 W 3rd Street, Davenport
MEETING DAY & TIME:
Meets monthly - 2nd Tuesday from 6:30-8:30pm
Group meets Jan through Dec (no July meeting)
Childcare is offered
CONTACT PERSON:
Nancy Maday - BFF of the QC, Family Resources / Iowa KidsNet (563-650-6383 or nancy@bffoftheqc.com)
Ali Grise (563-340-5671 or ali@bffoftheqc.com)
NEWSLETTER/WEBSITE:
www.bffoftheqc.com
Dubuque Foster Parent Support Group
This group is open to kinship parents, foster parents and any type of adoptive parent.

This support group is open to parents from Dubuque county and surrounding areas.

MEETING LOCATION:

Four Oaks - 180 W. 15th St, Dubuque
MEETING DAY & TIME:
Meets monthly - 1st Tuesday from 6:30-9:00pm
6:30pm social time; 7-9pm training time
Group meets Sept - Dec and Feb - May
CONTACT PERSONS:
Karen Fox - Lutheran Services in Iowa / Iowa KidsNet
(563-513-7026 or karen.fox@lsiowa.org)
Chris Barnett - Four Oaks / Iowa KidsNet
(563-557-3100 or cbarnett@fouroaks.org)
NEWSLETTER/WEBSITE:
n/a
Jackson County Foster/Adoptive Parent Support Group
This group is open to kinship parents, foster parents and any type of adoptive parent.

This support group is open to parents from any county.

MEETING LOCATION:

Faith Community Church
511 West Summit Street, Maquoketa
MEETING DAY & TIME:
Meets quarterly - 3rd Thursday from 6-8pm
Meets in January, April, July & October
CONTACT PERSON:
Chris Barnett - Four Oaks / Iowa KidsNet
(563-557-3100 or cbarnett@fouroaks.org)
NEWSLETTER/WEBSITE:
Sept 2012
Henry County Foster & Adoptive Parents Support Group
This group is open to kinship parents, foster parents and any type of adoptive parent.

This support group is open to parents from any county.

MEETING LOCATION:

First United Methodist Church
309 N. Main, Mt. Pleasant
MEETING DAY & TIME:
Meets monthly - 4th Monday from 6:30-8:30pm
Group meets September through May
CONTACT PERSONS:
Kim Edwards - IFAPA Peer Liaison
(319-985-2213 or edwardsifapa@yahoo.com)
Peggy Christensen (563-370-3350 or pchristensen@famres.org)
NEWSLETTER/WEBSITE:
n/a
Cedar Rapids Service Area Support Groups
Latte's with Lana Support Group
This group is open to DHS adoptive parents.

This support group is open to parents from
Johnson, Jones, Linn, Benton, Iowa and Tama counties.

MEETING LOCATION:

Hy-Vee (Wilson Ave - upstairs meeting room), Cedar Rapids
MEETING DAY & TIME:
Meets monthly - 2nd Thursday from 11:30am-1:30pm
CONTACT PERSONS:
Lana Kelsey - Four Oaks / Iowa KidsNet
(319-431-4250 or lkelsey@fouroaks.org)
Stacey O'Brien - Four Oaks / Iowa Kids Net
(319-981-5413 or sobrien@fouroaks.org)
NEWSLETTER/WEBSITE:
n/a
Total Thursday Support Group for Foster Parents
This group is open to kinship parents and foster parents.

This support group is open to parents from
Linn, Benton, Jones, Johnson, Iowa and Tama counties.

MEETING LOCATION:

Four Oaks Bridge
2100 1st Ave NE, Cedar Rapids
MEETING DAY & TIME:
Meets monthly - 3rd Thursday (except in Dec. - meeting will take place on Dec. 6th)
Fellowship is from 6:00-6:30pm
Training is from 6:30-8:30pm
CONTACT PERSON:
Kris Millsap - Four Oaks / Iowa KidsNet
(319--721-3311 or kmilsap@fouroaks.org)
Janet Rorholm - IFAPA Peer Liaison
(855-200-4168 or jrorholmifapa@yahoo.com)
NEWSLETTER/WEBSITE:
n/a
Total Thursday Adoption Support Group
This group is open to kinship parents and adoptive parents.

This support group is open to parents from
Linn, Benton, Jones, Johnson, Iowa and Tama counties.

MEETING LOCATION:

Four Oaks Bridge
2100 1st Ave NE, Cedar Rapids
MEETING DAY & TIME:
Meets monthly - 3rd Thursday from 6:30pm-8:30pm (except in Dec. - meeting will take place on Dec. 6th)
CONTACT PERSON:
Lana Kelsey - Four Oaks / Iowa KidsNet
(319-431-4250 or lkelsey@fouroaks.org)
Stacey O'Brien - Four Oaks / Iowa Kids Net
(319-981-5413 or sobrien@fouroaks.org)
NEWSLETTER/WEBSITE:
n/a
Appanoose County Support Group
This group is open to kinship parents, foster parents and DHS adoptive parents.

This support group is open to parents from any county.

MEETING LOCATION:

Nazarene Church
Corner of 15th & Bank Street, Centerville
MEETING DAY & TIME:
Meets monthly - 3rd Thursday from 6:00-8:00pm
Group meets Sept, Oct, Nov, Feb, Mar & April
CONTACT PERSON:
Lisa Niday - Children & Families of Iowa / Iowa KidsNet
(641-895-0494 or lisan@cfiowa.org) Julie Seemann - IFAPA Peer Liaison
(641-660-3649 or julies_ifapa@hotmail.com)
NEWSLETTER/WEBSITE:
n/a
JAMS Support Group
This group is open to kinship parents, foster parents and any type of adoptive parents.

This support group is open to parents from Jasper, Poweshiek and Tama counties.

MEETING LOCATION:

Ahrens Park Foundation
1510 Penrose St - Grinnell
MEETING DAY & TIME:
Meets quarterly - 3rd Thursday from 6pm-8pm
Group meets in September, January, March & June
CONTACT PERSON:
Pam & Steve Rodgers
(641-791-9032 or steverodgers@iowatelecom.net)
Teri Hoffstetter
(641-990-3685 or thoffstetter_ikn@fouroaks.org)
NEWSLETTER/WEBSITE:
n/a
Johnson County Foster Parents
This group is open to foster parents.

This support group is open to parents from
Johnson, Linn, Iowa, Benton and Washington counties.

MEETING LOCATION:

Christ the King Lutheran Church
325 Mormon Trek Blvd, Iowa City
MEETING DAY & TIME:
Meets monthly - 2nd Monday from 6:30-8:30pm
Group meets August through May
CONTACT PERSON:
Lisa Metzler - Four Oaks / Iowa KidsNet
(319-331-8184 or lmetzler@fouroaks.org)
Valerie Buns (319-354-4622 or icwestfan@aol.com)
NEWSLETTER/WEBSITE:
n/a
Jones County Support Group
This group is open to kinship parents, foster parents and any type of adoptive parent.

This support group is open to parents from any county.

MEETING LOCATION:

Saint Matthews Lutheran Church
Monticello
MEETING DAY & TIME:
Meets quarterly (Upcoming dates: Nov. 8, 2012, Feb. 7, 2013, May 9, 2013) - Time 6pm to 8:30pm
CONTACT PERSON:
April Werling - Four Oaks / Iowa KidsNet
(319-465-6538 or awerling@fouroaks.org)

NEWSLETTER/WEBSITE:
n/a
Mahaska County / WINGS Support Group
This group is open to kinship parents, foster parents and any type of adoptive parent.

This support group is open to parents from any county.

MEETING LOCATION:

First Church of Nazarene (Gateway Drive)
Across from Walmart, off of Hwy 163, Oskaloosa
MEETING DAY & TIME:
Meets monthly - 2nd Tuesday from 6:30 - 8:30 p.m.
Group meets September through April (Not in Dec or Jan)
CONTACT PERSON:
Julie Seemann - IFAPA Peer Liaison
(641-660-3649 or julies_ifapa@hotmail.com)

NEWSLETTER/WEBSITE:
n/a
Wapello County Foster Parent Support Group
This group is open to foster parents.

This support group is open to foster parents from Wapello, Jefferson, Davis, Monroe, Mahaska, Washington, Appanoose, Keokuk, Van Buren and Iowa counties.

MEETING LOCATION:

First Lutheran Church
126 N Jefferson, Ottumwa
MEETING DAY & TIME:
Meets 3rd Thursday from 6:00-8:00pm
Only meets during the months of Sept, Oct, Nov, Jan, Feb & Mar
CONTACT PERSON:
Angela Strong- Four Oaks / Iowa KidsNet
(641-226-2313 or astrong@fouroaks.org)
NEWSLETTER/WEBSITE:
n/a
Benton County Support Group
This group is open to kinship parents, foster parents and any type of adoptive parent.

This support group is open to parents from any county.

MEETING LOCATION:

Van Horne Methodist Church
205 3rd Ave, Van Horne
MEETING DAY & TIME:
Meets quarterly - 6pm to 8:30pm
CONTACT PERSON:
Janet Rorholm - IFAPA Peer Liaison
(855-200-4168 or jrorholmifapa@yahoo.com)
NEWSLETTER/WEBSITE:
n/a
Washington County Support Group
This group is open to foster parents and DHS adoptive parents.

This support group is open to parents from any county.

MEETING LOCATION:

Immanuel Lutheran Church
1226 E. Washington St., Washington
MEETING DAY & TIME:
Meets monthly - 1st Monday from 6:30-8:30pm (no child care)
Group meets January-August and October-December.


This group will NOT be meeting during the following months: March, May and June

CONTACT PERSONS:
Carrie Septer - Four Oaks / Iowa KidsNet
(319-364-0259 ext. 2200 or csepter@fouroaks.org)
Ann Kopf - Four Oaks / Iowa KidsNet
(319-364-0259 or akopf@fouroaks.org)
NEWSLETTER/WEBSITE:
n/a
Iowa County Adoptive, Foster & Respite Family Contact / Support Group
This group is open to kinship parents, foster parents and any type of adoptive parent.

This support group is open to parents from Iowa county and surrounding counties.

MEETING LOCATION:

St. Timothy Ev. Lutheran Church
113 WRM Drive, Williamsburg
MEETING DAY & TIME:
Meets every other month on 1st Monday from 6pm to 8:30pm
Group meets in Aug, Oct, Dec, Feb, Apr & June
CONTACT PERSONS:
Rev. Karl Heck (319-668-8961 or gotoheck@commspeed.net)
Tricia Yeggy - Four Oaks / Iowa KidsNet
(319-337-4523 ext. 2831 or tyeggy@fouroaks.org)
NEWSLETTER/WEBSITE:
n/a
Des Moines Service Area Support Groups
Ames Foster Parent Support Group
This group is open to kinship parents, foster parents and any type of adoptive parent.

This support group is open to parents from any county.

MEETING LOCATION:

Family Life Center
125 S. 3rd St., Ames
MEETING DAY & TIME:
Meets monthly - 2nd Thursday from 6:00-8:00pm
Group meets September through May
Childcare is offered
CONTACT PERSON:
Shawna Rolph - Youth & Shelter Services / Iowa KidsNet
(515-291-2942 or srolph@yss.ames.ia.us)
NEWSLETTER/WEBSITE:
Sept 2012, Oct 2012, Nov 2012, Dec 2012, Jan 2013, Feb 2013, Mar 2013, Apr 2013
Northern Polk, Boone & Story County Area Adoption Support Group
This group is open to kinship parents, foster parents and any type of adoptive parent.

This support group primarily serves families in
Northern Polk, Boone, Story and Dallas counties.

MEETING LOCATION:

Tri-B Farms
8600 NW 16th Street, Ankeny
MEETING DAY & TIME:
Meets monthly - 1st Thursday from 6:30-8:30pm
Group meets all twelve months
Childcare is offered / horseback riding & meal provided
CONTACT PERSON:
Regina Johnson - Iowa KidsNet / Four Oaks
(515-422-1690 or rjohnson@fouroaks.org)
NEWSLETTER/WEBSITE:
n/a
Kinship Connection Support Group
This group is open to kinship families.

This support group is open to parents from any county.

MEETING LOCATION:

Tri-B Farms
8600 NW 16th Street, Ankeny
MEETING DAY & TIME:
Meets monthly - 3rd Thursday from 6:30-8:30pm
Group meets all twelve months
Childcare is offered / horseback riding & meal provided
CONTACT PERSON:
Regina Johnson - Iowa KidsNet / Four Oaks
(515-422-1690 or rjohnson@fouroaks.org)
Angela Albers - Iowa KidsNet / LSI
(515-681-5624 or Angela.Albers@lsiowa.org)
NEWSLETTER/WEBSITE:
n/a
There's Always Hope Support Group
(Caring for children with RAD, ODD, ADHD, etc.)
This group is open to kinship parents, foster parents and any type of adoptive parent.
This group is also open to teachers and daycare providers.

This support group is open to parents from Boone and Story county,
all are welcome though.

MEETING LOCATION:

Boone County Hospital
1st Floor - Meeting room, Boone
MEETING DAY & TIME:
Meets monthly - 3rd Tuesday at 7pm
CONTACT PERSON:
Kris Wolf
(515-320-1845 or wolfpack@mchsi.com)
Donald Wolf
(515-212-8159)
NEWSLETTER/WEBSITE:
n/a
Union County Area Support Group
This group is open to kinship parents, foster parents and any type of adoptive parent.

This support group is open to parents from Union and surrounding counties.

MEETING LOCATION:

Crest Baptist Church
1211 Poplar Street, Creston
MEETING DAY & TIME:
Meets monthly - 1st Tuesday from 6:30-8:30pm
Group meets all twelve months
Childcare is offered
CONTACT PERSON:
Regina Johnson - Iowa KidsNet / Four Oaks
(515-422-1690 or rjohnson@fouroaks.org)
NEWSLETTER/WEBSITE:
n/a
Connections Support Group
This group is open to kinship parents, foster parents and any type of adoptive parent.

This support group primarily serves families in Polk, Warren and Dallas counties.

MEETING LOCATION:

Polk County DHS Riverplace
2309 Euclid Ave., Des Moines
MEETING DAY & TIME:
Meets twice a month - 1st & 3rd Tuesdays from 6:00-8:00pm
Group meets all twelve months

CONTACT PERSON:
Terri Bailey - Youth & Shelter Services
(515-249-7089 or tbailey@yss.ames.ia.us)
Cheryl Johnson - Children & Families of Iowa
(515-865-3515 or cherylj@cfiowa.org)
NEWSLETTER/WEBSITE:
Oct 2012, Nov 2012, Jan 2013, Feb 2013, May 2013
Breakfast Support Group
This group is open to kinship parents, foster parents and DHS adoptive parents.

This support group is open to parents from Polk and surrounding counties.

MEETING LOCATION:

Home Plate Diner
304 East 30th St, Des Moines
MEETING DAY & TIME:
Meets weekly for support - every Tuesday starting at 9am-11am
Group meets all twelve months. No training is offered at this group.
CONTACT PERSON:
Linda Dodson - IFAPA Peer Liaison
(888-491-3455 or Ldodsonifapa@q.com)
NEWSLETTER/WEBSITE:
n/a
Warren/Madison County Foster & Adoptive Family Support Group
This group is open to kinship parents, foster parents and any type of adoptive parent.

This support group is open to parents from any county.

MEETING LOCATION:

Indianola Public Library
207 North B St, Indianola
MEETING DAY & TIME:
Meets monthly - 1st Thursday from 6:30 - 8:30pm
Group meets September through May
CONTACT PERSONS:
LaDonna Overton
(515-669-5358 or ploverton123@msn.com)
Sharon Jensen
(515-961-0665 or sharon.jensen@simpson.edu)

NEWSLETTER/WEBSITE:
n/a
Marion County Support Group
This group is open to kinship parents, foster parents and any type of adoptive parent.

This support group is open to parents from any county.

MEETING LOCATION:

Church of the Nazarene
303 University St, Pella
MEETING DAY & TIME:
Meets monthly - 4th Thursday from 6:00-8:00pm
Group meets all twelve months
Childcare and meal available
CONTACT PERSONS:
Angela Albers - Iowa KidsNet / LSI
(515-681-5624 or Angela.Albers@lsiowa.org)
NEWSLETTER/WEBSITE:
n/a
East Polk Creating Foster/Adoptive Connections
This group is open to foster parents and any type of adoptive parent.

This support group is open to parents from any county.

MEETING LOCATION:

Berean Assembly of God
5299 E University Ave, Pleasant Hill
MEETING DAY & TIME:
Meets monthly - 2nd Thursday from 6:30-8:30pm
Group meets all twelve months
Childcare is offered
CONTACT PERSONS:
Angela Albers - Iowa KidsNet / LSI
(515-681-5624 or Angela.Albers@lsiowa.org)
NEWSLETTER/WEBSITE:
n/a
Polk County (West) Adoption Support Group
This group is open to kinship parents, foster parents and any type of adoptive parent.

This support group primarily serves families in Western Polk and Dallas counties.

MEETING LOCATION:

New Hope Assembly of God
6800 Townsend Ave, Urbandale
MEETING DAY & TIME:
Meets monthly - 3rd Tuesday from 6:00-8:30pm
Group meets all twelve months
Childcare is offered
CONTACT PERSON:
Regina Johnson - Iowa KidsNet / Four Oaks
(515-422-1690 or rjohnson@fouroaks.org)
NEWSLETTER/WEBSITE:
n/a
Madison/Adair County Area Adoption Support Group
This group is open to kinship parents, foster parents and any type of adoptive parent.

This support group is open to parents from Madison and surrounding counties.

MEETING LOCATIONS:

AmericInn - Meeting Room
420 SW 8th Street, Stuart
Farmer's & Merchants Bank - Community Room
101 W. Jefferson, Winterset

MEETING DAY & TIME:
Meets monthly (rotates between two locations - 2nd Thursday from 7:00-9:00pm
Group meets all twelve months
Stuart months are Jan., Mar., May, July, Sept. & Nov.
Winterset months are Feb., Apr., June, Aug. Oct. & Dec.

CONTACT PERSONS:
Melissa Rhoads - Iowa KidsNet
(515-490-6929 or ikn.melissa.rhoads@gmail.com)
Regina Johnson - Iowa KidsNet / Four Oaks
(515-422-1690 or rjohnson@fouroaks.org)
NEWSLETTER/WEBSITE:
n/a