IFAPA Conferences
IFAPA is hosting a spring training conference for foster and adoptive parents, kinship caregivers and social workers. All of our conference trainings are approved for foster parent credit and most are also approved for social work CEUs. Families/social workers have the option to attend the full-conference or may choose to attend only Friday or Saturday. Our conferences offers many great training opportunities you cannot find anywhere else!
About the 2017 Spring Conference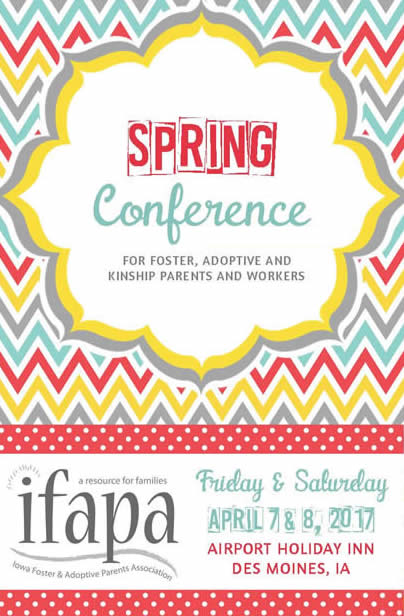 Conference Cost
The conference registration fees per person are:
Foster/adoptive/kinship parent:
$50 (1-Day Conference) OR $70 (2-Day Conference)
Social worker/Other professional:
$80 (1-Day Conference) OR $100 (2-Day Conference)
Lunch is included in the registration fees. See page 14 of our conference brochure for lunch details.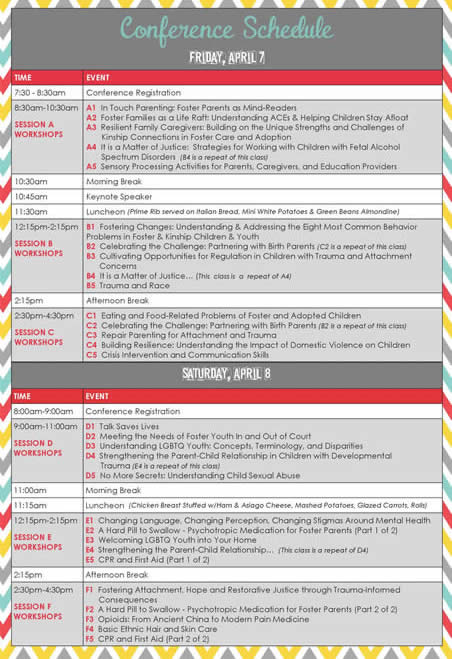 Conference Workshops & Registration
To view a list of conference workshops, visit one of the links below.
TO REGISTER VIA MAIL (see page 15 of conference brochure)
VIEW CONFERENCE BROCHURE
TO REGISTER & PAY WITH A CREDIT CARD
REGISTER FOR OUR CONFERENCE ONLINE
Registration Deadline:
All registrations must be postmarked by Wednesday, March 29, 2017. A confirmation letter will be emailed to all registered participants the week of April 3, 2017. CANCELLATION REFUND DEADLINE IS Monday, March 27, 2017 - NO EXCEPTIONS.
Conference Location Details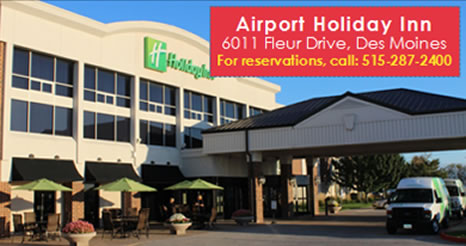 Airport Holiday Inn - 6011 Fleur Drive, Des Moines
Hotel room arrangements should be made directly with the Airport Holiday Inn by calling 515-287-2400.
The conference room rates are $91 per night (taxes not included). A block of rooms has been reserved for Thursday, April 6th, Friday, April 7th and Saturday, April 8th. Please be sure to mention you are attending the IFAPA Conference to receive this special rate. Only a limited number of rooms will be reserved for the IFAPA Conference so they are on a first-come, first-serve basis. Hotel reservations made after Thursday, March 16th will be given the current room rate being offered by the hotel.