IFAPA Conferences
IFAPA hosts a spring and fall training conference every year for foster and adoptive parents, kinship caregivers and social workers. All of our conference trainings are approved for foster parent credit and many are also approved for social work CEUs. Families/social workers have the option to attend the full-conference or may choose to attend only Friday or Saturday. Our conferences offers many great training opportunities you cannot find anywhere else!

IFAPA's Spring Conference
Friday & Saturday, April 8 & 9, 2016
Airport Holiday Inn & Convention Center - Des Moines
VIEW CONFERENCE BROCHURE
(including workshops and mail-in conference registration form)
ONLINE CONFERENCE REGISTRATION
(view schedule, workshop descriptions and register and pay with a credit card)
All registrations must be postmarked or dropped off at the IFAPA office (office hours are 8am-4:30pm) by Friday, March 25, 2016.
Workshop Schedule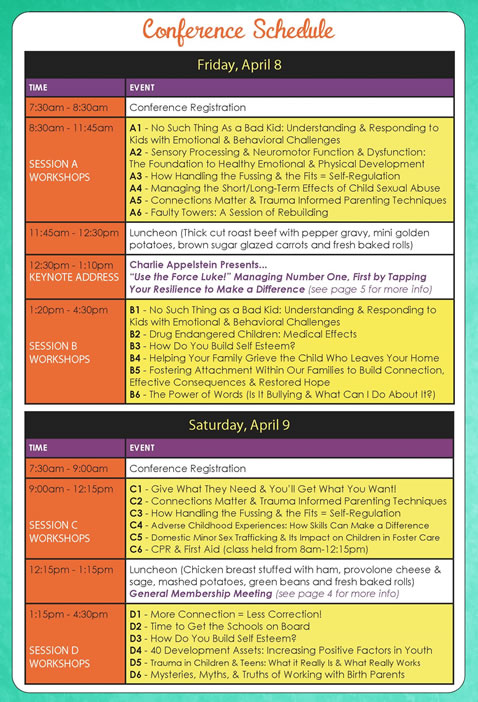 Conference Location
Airport Holiday Inn & Conference Center
6111 Fleur Drive, Des Moines
The hotel is located on the south side of Des Moines, directly across from the Des Moines International Airport. To make room reservations, call: 515-287-2400
Hotel arrangements should be made directly with the Holiday Inn by calling 515-287-2400. The conference room rates are $89 per night (taxes not included). A block of rooms has been reserved for Thursday, April 7th, Friday, April 8th and Saturday, April 9th. Please be sure to mention you are attending the IFAPA Conference to receive this special rate. Only a limited number of rooms will be reserved for the IFAPA Conference so they are on a first-come, first-serve basis. Hotel reservations made after March 17th will be given the current room rate being offered by the hotel.
Conference Registration
TRAINING CREDIT FOR FOSTER PARENTS & SOCIAL WORKERS
All workshops have been approved for foster parent training credit (worth six credits per day). Many of the conference workshops have also been approved for Social Worker CEUs and are noted throughout the training descriptions.
HOW TO REGISTER
Participants have the option to register via MAIL (see page 19 for registration form) or ONLINE (must pay via credit card). Phone registrations will not be accepted.
REGISTRATION DEADLINE
All registrations must be postmarked or dropped off at the IFAPA office (office hours are 8am-4:30pm) by Friday, March 25, 2016. A confirmation letter will be emailed to all registered participants the week of April 4, 2016. CANCELLATION REFUND DEADLINE IS FRIDAY, MARCH 25, 2016 - NO EXCEPTIONS.
EARLY REGISTRATION DRAWING
All conference registrations received by the early registration deadline (Mon., Feb. 29th) will be entered into a drawing to win a free registration. The winner will be notified prior to the conference.
CHILD CARE
Children will not be allowed in training sessions or the luncheons. If you plan to bring your children with you to the hotel, please be sure they are supervised at all times.
TEMPERATURE CONTROL
IFAPA strives to provide a comfortable training environment. However, it is not always possible to maintain a training room temperature that is comfortable for every participant. Please dress appropriately and be prepared to adapt to a training room temperature that may be too cold or too warm for some individuals' personal comfort. 
SAVE THIS DATE:
IFAPA's Fall Conference
Friday & Saturday, October 28 & 29, 2016
Coralville Marriott Hotel & Conference Center
More details will be posted in August 2016